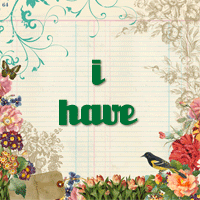 I admit it. I have issues. Don't we all? I now have one more issue to deal with (but it's a good one) because I was asked to join the Paper Issues creative team!

A new issue went live on the Paper Issues blog yesterday and it's a great one. Link up a project(s) (you don't have to use Elle's Studio product) having to do with the theme which is serendipity (think along the lines of luck, chance, fate, and kismet). It can be something you've already created or something new. Elle's Studio is giving away FIVE Serendipity prize packages. Yes, FIVE! What are you waiting for? :)
If you want to shop (and who doesn't want to shop for scrapbooking supplies?), check out all of the wonderful new goodies in the
Paper Issues store
. Use my discount code, which entitles you to 20% off your order: LISA20 How's that for enabling? :)
Cassie's customer service is top-notch. She ships at lightning speed AND wraps your order in the prettiest of tissue papers (that you'll want to keep) AND includes a creative thank you in EACH AND EVERY order! You can't beat that!