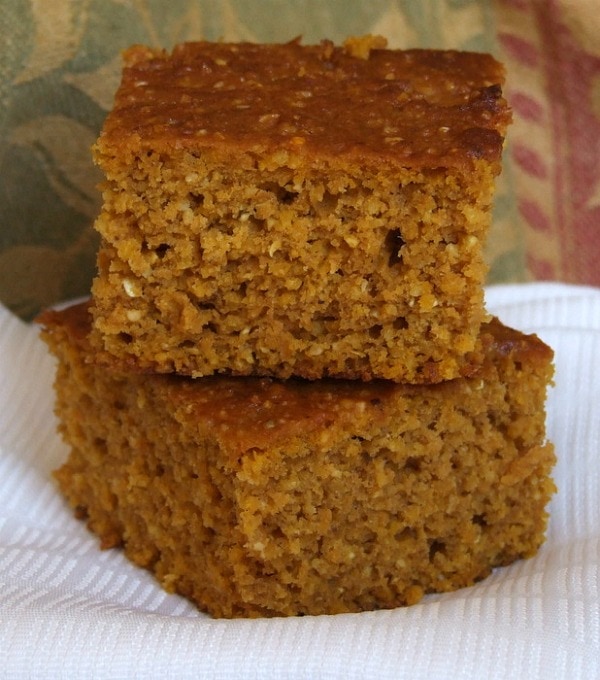 (Photo and recipe courtesy of recipegirl.com)
I know it's not time for Tasty Tuesday, but this recipe was too good to wait until then. LOL! I recommend cutting the baking time down a bit from the 30 minutes. It definitely needed less (at least in my oven). Next time I'm going to start checking it at about 23 minutes. Enjoy!
1/2 cup all-purpose flour
1/2 cup whole wheat flour
1 Tablespoon baking powder
1 teaspoon salt (I omitted this)
1/2 teaspoon ground cinnamon
1/4 teaspoon ground nutmeg
1 cup cornmeal
2 large eggs
1 cup unsweetened pumpkin puree (canned or freshly cooked and processed)
2/3 cup light brown sugar, packed
1/4 cup canola oil
1 Tablespoon molasses
Directions:
1. Preheat oven to 400°F. Grease 10" glass pie pan or 9" square baking pan.
2. Combine flours, baking powder, salt (if using) and spices in a large mixing bowl. Whisk in cornmeal.
3. In separate bowl, beat eggs lightly. Whisk in pumpkin, brown sugar, oil and molasses.
4. Make a well in the dry mixture. Add pumpkin mixture and blend batter with a few quick strokes (just until blended; don't over-mix).
5. Pour batter into prepared pan. Bake for 30 minutes (I recommend less time), or until cornbread is browned and the surface has a slightly springy feel.
Enjoy and be sure to let me know if you liked it. :)